Whether you are producing a disposable medical device, a consumer charging cable, or a wire harness for a piece of capital equipment, you must connect the different components together—the exterior of all of those wires is the Jacket.
Before we discuss what the "Jacket" is, let establish the very basic anatomy of a wire. Within a "simple" wire you have, moving from inside to outside;
Jacket
What is the "Jacket"?
Simply put, the jacket provides protection to the internal components of a wire, as well as differentiation in the physical appearance of the wire.
Free eBook Download: Cable Design: Thinking Beyond Components to Build a Successful Connection
What is the Jacket made of?
There are two leading players in the wire jacketing game: thermoplastic vs thermoset. The most common wire jackets are produced using thermoplastics, while some specialty applications use thermosets.
Thermoplastics
Easy to manufacture
Ability to produce a wire that is lighter weight
Easily colored for identification purposes
electrically beneficial
Usually less expensive
Examples: PVC, polyethylene, polyurethane, polypropylene. Etc.
Thermoset
Used in situations with extreme exposure and pressure
Requires curing once extruded
Will not re-melt once extruded
Generally more expensive
Examples: rubber, neoprene and silicone to name a few
What to consider when considering a wire jacket:
What is the environment the wire will be used in? Does it need to be tough and abrasion resistant?
How flexible does the wire need to be?
What is the range of temperatures the wire will be exposed to?
What is the life expectancy of the wire?
How resistant does it need to be to various elements: Flame, Heat, Cold, Oil and other Chemicals, Light and Weather?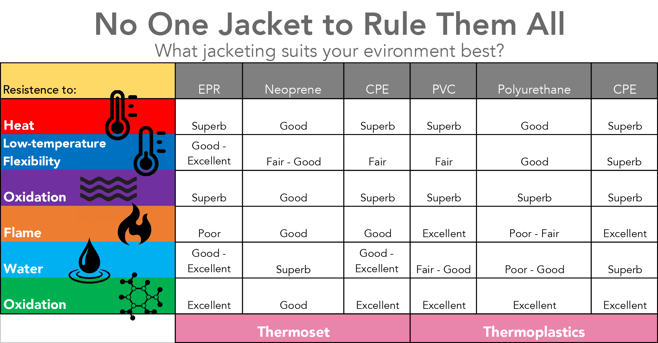 Depending on your answers to these questions and many others you'll be able to determine if you need a thermoplastic or a thermoset. For example; both PVC and Rubber have excellent heat resistance, but when exposed to a flame rubber performs poor and PVC performs excellently.
Previous blog post in the series: Shield