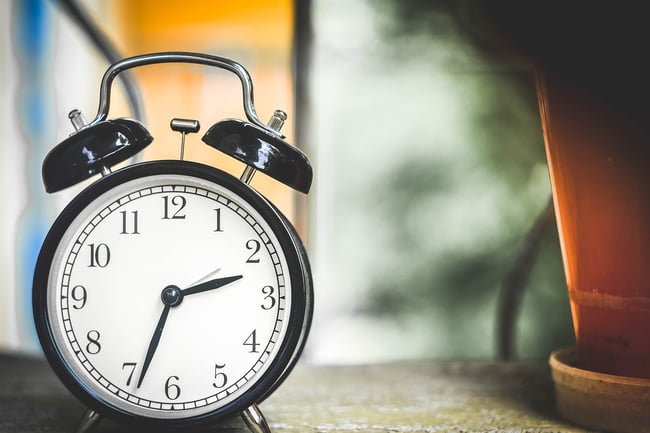 When we partner with OEM's to develop devices, I like to ask how the variable of time compares with other variables such as staying on budget or getting all the features just right.
When asking about time criticality, the answer I typically get sounds something like this:
Budget, delivering the right device features, and project timeline are all important.
This makes sense, after all, these are the typical metrics used to measure development project success.
Why don't all stakeholders value "time" as the most important metric?
In this post, I'll talk about why I believe time is an important factor of every development project that shouldn't be overlooked.
Free eBook download: An Innovative Approach to Energy-Driven Medical Device Development
Reason #1: The "First-Mover" Advantage
In the classic book, The 22 Immutable Laws of Marketing, famed marketers Al Ries and Jack Trout list The Law of Leadership as the first law of marketing.
They write:
It's much easier to get into the mind first than to try to convince someone you have a better product than the one that did get there first.
Being the organization that develops a device that significantly changes the way healthcare providers treat patients is key to capturing a market (and impacting as many lives as possible).
To achieve this "first-mover" advantage, you must be able to bring your device to market quickly (or quicker than a competitor) especially when doctors and hospitals are making major investments in advanced software platforms, capital equipment, and establishing a standard of care intended to last well into the future.
Being the first company to integrate with these systems can secure your product position for years—providing future cashflows that can be used to fund further device development.
Reason #2: The Time Value of Money
Beyond the significant innovation that comes with a "first-mover" type device, our partners need to make a profit which brings us to another reason why time is such an important factor: the Time Value of Money.
The Healthcare Equipment and Services industry has averaged 18% return on equity for the period 2005-2018 (from 10-k filings compiled by Stock Analysis on Net).
From a financial perspective, it would be financially equivalent (on average) to spend 18% more to bring an improved device to market one year earlier.
For example…
Consider a project where a redesign will lower the cost of the device by 20% by reducing scrap (you can substitute "reducing scrap" with any other cost-saving measure, such as "simplifying manufacturing" or "allowing for automation").
Assume that the project will cost about $2M to implement the changes and save $1.35M per year.
As you can see from the example below (using 18% as the value of money), the original plan to complete within one year will have a nice return on investment of about $1,382,000.

The next scenario has the same costs and benefits, and adds one year to implement before benefits begin.
As you can see, this reduces the value of the project by over $400k.

The final scenario below shows that it is equivalent to pay up to $477,699 in expedite fees to get the project done in the first year versus spreading the effort out over 2 years.

Therefore, when budgeting for development of a device, thought should be given to the value of incurring higher short-term cost to ensure on-time or a shorter time to project completion.
Reason #3: The Risk of Project Delays and Overruns
Decisions during device development and device improvement projects are almost always made from a "risk vs. cost" perspective.
My experience tells me the longer the time period, the larger the risk for significant cost overruns.
With regulatory and quality compliance as a priority, lengthy delays for other issues often allows for out-of-scope development to occur.
Being razor focused on project deliverables helps keep the costs and time in control.
Conclusion
When looking at device improvement or development projects, my experience puts "time" as the most valuable commodity.
The old saying "time is money" surely applies to device development, however, it is not as visible as it should when companies work through the development process.
Placing "time" on equal footing with a project's budget and product features can lead to significant improvements in project outcomes.
Additional resources
Want to know how the time value of money can impact your next project?
Download our free Time Value of Money Project Calculator to run analysis similar to the one presented in this blog post.