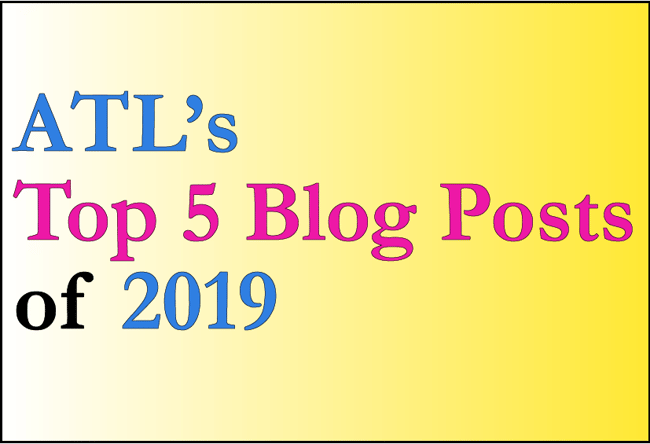 Who doesn't look forward to their Spotify Year in Review?
We certainly do, which is why we've decided to do something special to wrap up 2019.
After all, it was a big year for the ATL Critical Connections blog.
We tackled everything from international tariffs (and how they've impacted the medical device industry) to the advantage of using collaboration during the device development process.
Though we try our hardest to make sure that every piece of content we put out is useable and valuable, there were a handful of blog posts that you—our audience—really connected with.
So...
Without further ado, below are the top 5 most read blog posts that we released in 2019.
The minimally invasive market is one of the primary markets that ATL serves.
Having helped bring different minimally invasive products to market over the years we've noticed a trend:
As the use of energy-driven devices in minimally invasive applications increases, engineers working in the minimally invasive market are being tasked with developing complex devices under numerous constraints.
In this post, we talk about the different challenges facing the minimally invasive market and some strategies for overcoming them.
With approximately 20-30% of hospitals reporting that they reuse at least one type of single-use device, the reuse of single-use devices is becoming a concern for both medical device companies and regulatory agencies.
Fortunately, there are steps manufacturers of energy-driven devices can take to combat this problem
In this post, we discuss the problems associated with reusing single-use devices and some of the different methods medical device companies can use to limit the reuse of energy-driven devices.
Developing any type of device is a tall task.
Bringing an energy-driven device to market in a time of rapid change and advancement can seem unimaginable—especially if you've never had to do it before.
Knowing how to design a device with the interconnect solution in mind can help you gain an edge that will put your team in a better position to succeed.
In this post, we explain how you can improve your energy-driven device development process by using a holistic approach that keeps the interconnect solution top-of-mind throughout the different design and development phases.
Overmolding is a hot topic throughout the medical device realm.
Within the minimally invasive market in particular, overmolded connectors are gaining popularity because they can be used to customize a device, improve performance, and lower costs.
In this post, we breakdown the connector-overmolding process and discuss the benefits overmolded connectors offer that off-the-shelf options don't.
In 2019, we saw the battle between custom and off-the-shelf solutions within the medical device industry start to heat up.
Earlier in the year, we tried our best to settle the custom vs. standard connector debate, but we realized that the conversation had to be taken further.
So, in our top blog post of 2019, we set out to clarify the differences—pros and cons, costs and benefits—between custom cable assemblies and off-the-shelf assemblies so that you can find the right solution for your device.
Want to read all of these blog posts without having to click through our website?
Download our top 5 blog posts of 2019 in one bundled PDF!